HS2 - Local & National News
Compiled with the aid of Andrea Polden's daily HS2 News digest
For National HS2 news, visit the Stop HS2 News pages,
the Google HS2 news feed,
& the Stop HS2 "TV station" on YouTube
Local news ( from the Bucks Examiner ) here .. with luck
17-May-2018
New Reports -
Phase 1 planning forum - Minutes of the January meeting, released in a timely fashion on 15th May.
Independent Construction Commissioner - fourth report, and response from HS2
28-Mar-2018
Recent Meetings
Chilterns Liaison forum (26th March), Chess Association (20th March) - see Meetings
Denham meeting - 28th March, commentary
08-Mar-2018
(Lets keep it in the family). The Community Engagement Fund gave the grant towards the £4.45m redevelopment of Wendover Woods, enabling Nusrat Ghani (the HS2 minister) to get out into the countryside, before her department start ruining it. She said
"Whilst we know there will be disruption as we deliver one of Europe's biggest infrastructure projects, we are absolutely committed to minimising the effects of building the new railway."
( so long as it doesn't cost more, for example by putting it in a tunnel )
HS2 preparation works expenditure (2016-17) - £6.6m / week
06-Mar-2018
HS4Air – "An M25 for high speed trains"
HS4Air (High Speed for Air) is a proposed strategic high-speed rail/air connection in south east England developed by Expedition ...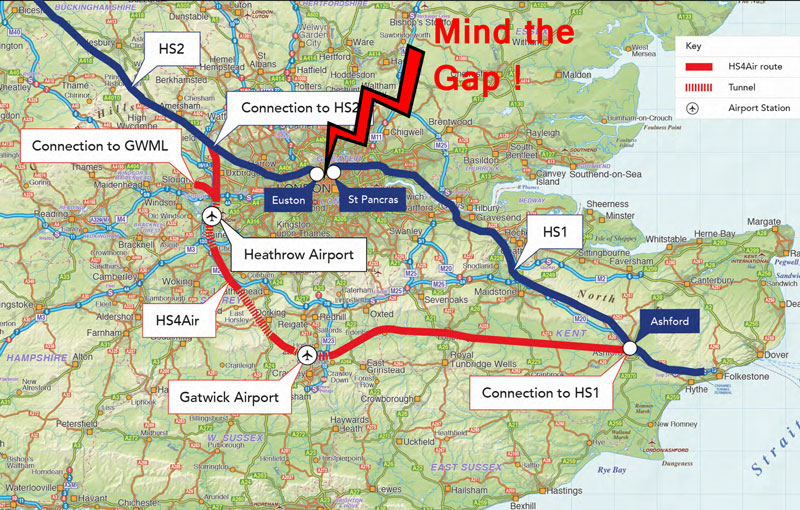 "Hi Chris - remember that High Speed Rail Line ? Seems we forgot to connect it up to the other one - you know, goes through the tunnel thingy to France. You don't happen to have another £10bn to spare, do you, so we can bodge something up ?"
"No, no - it wasn't us, it was that prat Adonis"
20-Feb-2018
Another few billion ?
" Some say that if individuals choose to live in rural areas, where broadband provision and mobile phone coverage may cost more, that choice should not be "subsidised" by others in urban areas. To which I say, but where do the urban dwellers get their food from, who keeps the countryside beautiful for them, who protects the landscape, keeps our nation's green lungs breathing, who maintains the health, beauty and balance of nature for future generations? The people in rural areas who are currently being deprived an important service so many take for granted and need it now.
We're planning to spend north of £60 billion on HS2, 30 times as much as it would cost to provide universal superfast broadband for everyone in the country."
(Secretary of State Michael Gove at the NFU Farming Conference 2018 - transcript)
Jon Bartley (Green Party) asks Chris Grayling what happened to the official £55.7 Bn estimate ? It cant have gone up again, can it ?
19-Feb-2018
Injunction against Harvil Road protest
See HS2Watch page with link to GoFundMe - support the protest !
31-Jan-2018
Carillion replaced
Following the total collapse of one of Britain's largest contractors, Carillion, Kier and Eiffage have picked up its HS2 work. (more...)
19-Jan-2018
Colne Valley Viaduct concepts released
HS2 Ltd today revealed an outline concept for the Colne Valley viaduct, published as a specimen design. No public consultation, and more concern for the view of the passengers than for the Noise impact on the valley (more...).
29-Dec-2017
End of year roundup
15-Dec-2017
HS2 waste £1.76m on unauthorised payments - but what about the other £55bn ?