10-Dec-2020
FOI requests
18-2188 - Tunnel Safety
Why ?
In case of an incident in the (2 bore) Chiltern Tunnel, passengers are evacuated onto a walkway in the other tunnel - described as a 'place of relative safety' by Tim Smart, a witness for HS2.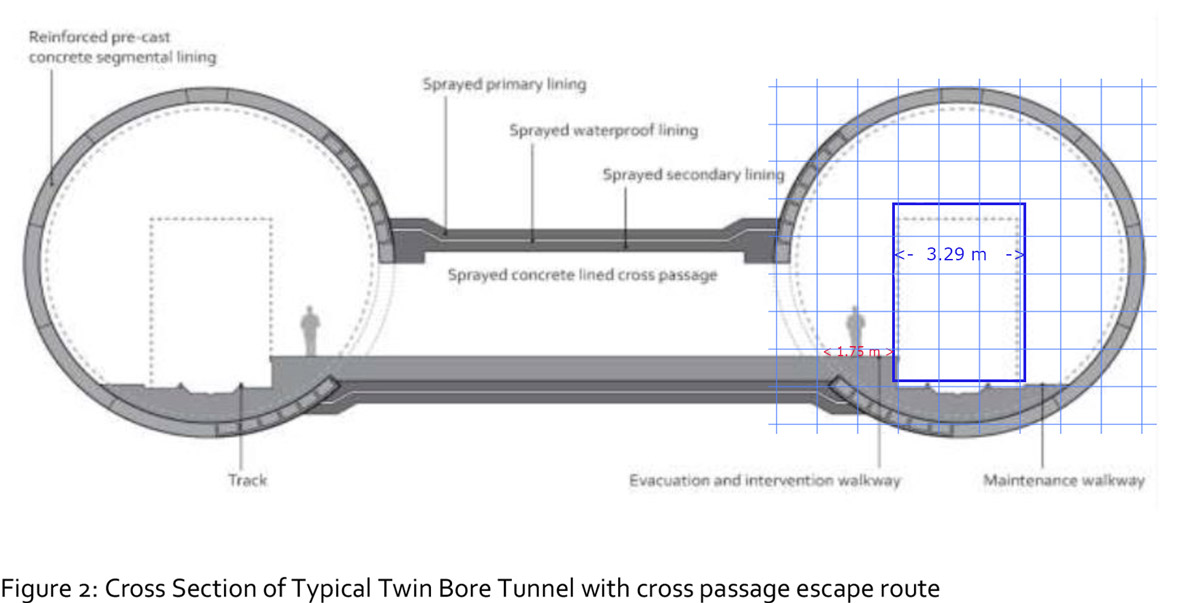 The Chiltern Society believe that the other tunnel is not in fact a safe refuge, and the evacuation procedures expose the public to a high degree of danger. The case for a 3 bore tunnel was made to the (House of Lords) select committee in 2015.
Submitted, 11-Nov-2018
"We understand that you have commissioned a report on the safety case for the Chilterns Tunnel, a long standing concern of this society. We request a copy of the report, and any related correspondence between HS2 Ltd and its authors, under the Freedom of Information Act."
"Releasing this information could jeopardise public and worker safety and project delivery by increasing the risks of accident or acts of sabotage."
(see Annex A)
"Some of the withheld information pertains to live and future matters for the building of the Chiltern's tunnels which includes designs of ventilation shafts, escape routes, along with the analysis of other international systems. Therefore the information relates to legitimate economic interests of the third party, it outlining key workings, approaches and designs that could be used by competitors to gain an advantage in the market."
(see Annex B)
Complaint (to HS2) regarding the refusal, 8-Feb-2019
"We consider that the refusal to accede to this request is not justified by the reasons given, and that there is overwhelming public interest in making the requested information available."
(See our ResponseReply)
"Thank you for your email to HS2 Ltd. We are considering your request as an Internal Review under the Environmental Information Regulations 2004 and aim to reply as soon as possible and no later than 07 March 2019"
Your reference number for the request is FOI-19-3090-R. (HS2 Acknowledgement, 8-Feb-2019)
Reminder, 31-Mar-2019
"Please accept my apologies that we have not replied to your request for Internal Review."
(HS2 reply, 1st April)
"To summarise, we are currently awaiting
1. A response to our FOI request of 3rd Feb regarding the train evacuation
procedures (in the Chiltern Tunnels)

2. A review of our complaint of 8th Feb regarding your handling of our initial FOI 18-2188 ; see attachment FOI18-2018-ResposeReply for our grounds for requesting this review."
Acknowledgement received, but no response - 28-May-2019
19-3090 - Tunnel Safety II
"we request a copy of those portions of the report referred to below which relate to the procedures for the evacuation of a stationary train within the Chiltern Tunnels, and for providing a 'rescue' train on the unaffected line – redacted if necessary."
Reply !! - 25-Jun-2019
"Your email of 03 February 2019 was treated as a request for review, rather than a new request, as it expressed dissatisfaction with the original response and it only requested a subset of the information that had already been refused in FOI-18-2188. "
But the reasons for the refusal of 18-2188 might not apply to the subset requested ? The reasons given this time around are
Disclosure of Internal Communications. The commissioned report was 'intended for internal considerations only' - which makes it an internal communication ... right ?
Material in the course of completion - Annex A. Since the construction contracts were to have been issued this month, it is strange that the safety case is not yet complete.
Decision ! 01-Jul-2020
Quick work !! Here is the decision from the ICO. Next move to be decided.
Request to HS2
I note that in para 44 (of ICO decision, above) you state that you 'intend to make public your final decision', and that 'the public will be able to review and comment on the proposed measures'.
Since you have now commenced construction on a large scale at the tunnel South portal, and have only purchased two tunnel boring machines, it is clear that you have made an irrevocable commitment to a twin bore tunnel. That being the case, the policy has surely 'been developed' and it is time for you to release the information regarding the safety case for such a tunnel.
Response -
12(4)b - Manifestly Unreasonable requests
"there are a large number of documents captured by your request and any search would require examination of these documents to identify those relevant to your request.
Regulation 12(4)(b) of the EIR allows public authorities to refuse a request for information where the cost or burden of dealing with the request would be too great."
Request to Office of Rail and Road
(via What do they know ?)
"We understand that HS2 Ltd have adopted the Common Safety Method on Risk Evaluation and Assessment (CSM-RA) to assess the safety of their designs, and that reports from their CSM-RA assessment body are submitted to your organisation. Would you supply us with copies of such reports ..."
Response -
"We do not have the information requested.   The CSM-RA Safety Assessment Report from the Assessment Body is only required to be submitted to the Office of Rail and Road (ORR) when, as part of the complete Technical File for the relevant element of the works, this is submitted for Authorisation."
Request to the Network Certification Body
"We understand that you have been awarded a contract to provide safety assessments for HS2 infrastructure... Could you please provide us with documents relating to the evacuation procedures proposed, in the event of an incident affecting a train which results in it being halted while passing through the Chiltern Tunnel ?
Response
Refused - 12(4)d - Material in course of completion, & 12(5)a - Public safety