30-May-2022
updated 6-Jul-2022
Campaign Update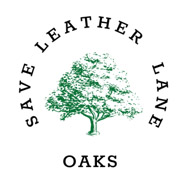 Success for Leather Lane at meeting with HS2
The long awaited meeting between the Campaign and EKFB, HS2's subcontractor, finally took place at Great Missenden Memorial Centre on 18th May. Bucks County Councillors, Great Missenden and The Lee Parish Councillors were all in attendance - see Minutes .
Our lead Ecologist set out the reasons why EKFB need to change their original design for the rerouted lane and over bridge.
A European report from 2011 that was submitted to HS2 at consultation stage states:
"One of the most important issues is fragmentation of landscapes by human activities and infrastructure — a major cause of the alarming decrease in many European wildlife populations...Fragmentation analysis must be integrated into transport and regional planning so that cumulative effects are considered more effectively in the future."
Despite this, HS2 failed to carry out any baseline surveys before starting to fell trees last March and did not identify Leather Lane as a vital bat corridor, nor did it apply the Mitigation Hierarchy which requires them to AVOID harm to biodiversity where possible.
It was crucial for the County and Parish Councillors to understand the ecological risks posed by EKFB's proposals and their failure to provide adequate mitigation at the Track Trace where 9 trees were felled last year. They also heard from local residents how EKFB have failed to protect the remaining trees in the lane from the construction work.
Our civil engineer presented our design (known as Option 7) and there was detailed discussion of engineering points, comparing Option 7 with EKFB's option, which concluded that our Option 7:
Saves more trees (in fact it saves the remaining 87 veteran oak trees)
Crosses the line at right angles, so is cheaper to execute
Will require adjustments to a transformer location and landscaping
Meets all the required engineering parameters.
This last point is most important; it allows Bucks Council to refuse an application to build the bridge currently proposed by EKFB as the development, "could reasonably be carried out elsewhere".
From the outset the Campaign has insisted on changing the design for a standard 60mph road as this is obviously inappropriate for a single track road such as Leather Lane. Transport for Bucks have agreed that the speed can be limited 'by design' to 35-40mph regardless of the final design.  This is a win for the campaign and for this ancient Holloway.
As our result of our ongoing campaign, EKFB's design has been revised and has reduced the number of trees that would be lost for the over bridge from 87 to 12 or so on the Southern side.  This is a big improvement, but it still fragments the wildlife corridor yet again. Our aim is to preserve all remaining trees in the wildlife corridor, and so Option 7 is preferred.
EKFB have agreed to analyse the substantial amount of bat monitoring data collected by Carol-Anne and her 'Anabat' readers last year, in order to understand for themselves the level of bat activity in the area, that of the Barbastelle bat in particular. This agreement is a very encouraging sign, which suggests that EKFB are genuinely taking our Ecological and legal arguments on board.
Commitments were also made by EKFB to the Campaign and Bucks Council to ensure that Mitigation is put in place for the fragmentation of 90 metres caused at the Track by felling of 9 trees last year.
They also agreed to correct the breaches of mitigation for the retained trees and immediately put a Construction Exclusion Zone in place to protect the roots, branches and understory of these veteran oaks.
Next Steps:
The outcome of the meeting is a major milestone in the campaign to save the Lane, and was far more positive than we had anticipated on many counts.  However, this is by no means 'job done'; the possibility is still to be realised.
Our immediate objectives are:
To ensure that the bat data is analysed thoroughly, and the results made available.
To encourage EKFB to take ownership of the north side option, and implement it.
Failing this, to put pressure on Bucks to refuse any schedule 17 application for the southern route.
The positive outcome has been the result of collaboration between local groups, Parish and County councillors, ecologists, bat experts and locals, and demonstrates how effective community groups can be in holding a big construction project like HS2 to account. 
We remain optimistic as to the outcome, but we continue to need your support for this last leg and for the big bill from our engineer which has been crucial to change the outcome.