03-Sep-2019
The Oakervee Review
What took you so long ?
The Prime Minister has stated his wish to review "whether and how we proceed" with HS2 ahead of the 'Notice to Proceed' decision for Phase 1 (London-West Midlands) due by the end of 2019. The "terms of reference" may be found here.
'Preparatory Works' continue during the review process - despite protests from the Woodlad Trust.
On the down side, Oakervee is a past chair of HS2, but on the other hand, Tony Berkley (Vice Chair) is a persistent critic. Let battle commence !
& for (much, much) more of similar, see Google News.
Pause Construction until the Review is completed
A Woodland Trust Campaign, supported by Politics Home
Chiltern Society
Martin Tett
"The recently appointed Chairman of HS2 Ltd, Allan Cook, provided his advice to me on the cost and deliverability of the current scheme shortly after my appointment as Transport Secretary – and I want the House to have the full details at the earliest opportunity. ... I have today placed a copy of the advice in the Libraries of both Houses. This has only been redacted where commercially necessary, and the Oakervee Review panel will of course see the report in full.
Colleagues will see that the Chairman of HS2 does not believe that the current scheme design can be delivered within the budget of £55.7 billion, set in 2015 prices. Instead he estimates that the current scheme requires a total budget - including contingency - in the range of £72 to £78 billion, again in 2015 prices.
Regarding schedule, the Chairman does not believe the current schedule of 2026 for initial services on Phase One is realistic. In line with lessons from other major transport infrastructure projects, his advice proposes a range of dates for the start of service. He recommends 2028 to 2031 for Phase One - with a staged opening, starting with initial services between London Old Oak Common and Birmingham Curzon Street, followed by services to and from London Euston later. He expects Phase 2b, the full high-speed line to Manchester and Leeds, to open between 2035 and 2040."
"The programme is facing substantial schedule and cost pressures for a number of reasons. In part, that is a reflection of the scale and complexity of the programme (Redacted). Next, the work we have carried out has revealed that ground conditions are significantly more challenging than predicted. (although much as predicted by the petitioners - Ed) Finally, and in part, early estimates based on comparisons with other international high-speed railways, have for a variety of reasons proven to be overly optimistic."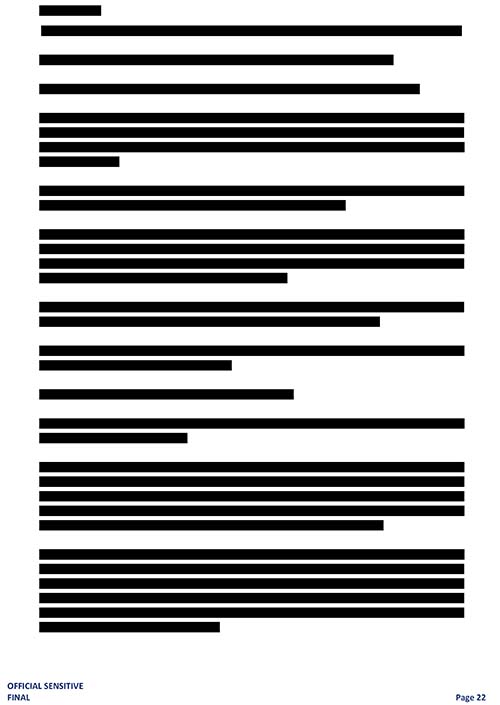 We find page 22 to be particularly
well argued
Commentary - Stop HS2, more to follow ...