8-Feb-2017
8-Sep-2021
Environmental Statement
HS2 released the Environmental Statement as part of the preparation for the Hybrid Bill. Interested parties were invited to comment on the 50,000 line multi-volume 'document' covering different aspects and different areas. Parts were revised when 'Additonal Provisions' (APs) were introduced, each being accompanied by a Supplementary Environmental Statement.
Now comes the difficult bit - ensuring HS2 abide by their promises.
4-Jun-2020
Additional Provisions
See the SES3/AP4 (October 2015) updates, and the index to AP2 documents
Maps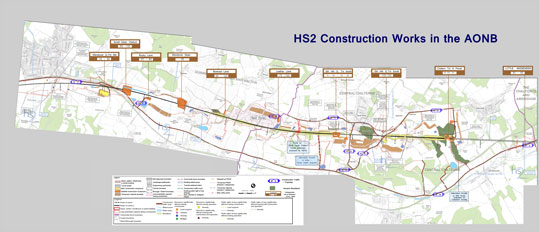 Construction works in the AONB - a composite map showing all the works between Little Missenden and Wendover.
Various features (compound names, traffic flows,..) can be turned off. Contact us if you would like to use some variant of the map (or a part of it) to illustrate your petition.
Consultation
The consultation closed on Thursday 27th February. Responses will 'inform the second reading debate' - the last opportunity for parliament to reject the Hybrid Bill.
Responses
Chiltern Society
Chesham Society (AONB Traffic)
REPA ( Residents Environmental Protection Association ; Chilterns Tunnel Extension )
Denham etc ( CFA 7 )
Amersham/Chalfont (CFA8) response
Central Chilterns (CFA9) response -
---
HS2 Ltd Documents
The statement is now published , see the Gov.uk site for a complete list of documents.
21-Aug-2020
Links below are no longer valid; the Phase 1 ES documents may now be found here
Of interest to Chilterns residents are
Community Forum Area Reports ( Vol 2 )
Colne Valley: CFA 07
The Chalfonts and Amersham: CFA 08
Central Chilterns: CFA 09
Dunsmore, Wendover and Halton: CFA 10
Other Stuff
Vol 3 - Route Wide effects
Vol 5 - draft ES consultation outcome & Summary of Responses
8.1.1 - Conclusion
"A great deal of consideration has been given to the comments received and to how these could be addressed; whether through the ES, the draft CoCP or through design development.
For engineering, environmental or cost reasons it has not been possible to take on board all comments raised."
See this summary of section 7.4 relating to the Chilterns AoNB
Vol 5 - Traffic & Transport -
see Part6 , table 7.37 p91, for the traffic survey results - where better to hide them ?