19-Jun-2021
The Chiltern Tunnel - Approval ?
See also, FoI requests >>
15-Jun-2021
Tunnelling Risks
The Chiltern Society has been corresponding with the Environment Agency (EA) with regard to the impact of the Chiltern Tunnel on the River Misbourne and the Misbourne aquifer. (more)
Similar concerns are discussed in this press release from the River Chess Association
19-May-2021
"The (Chalfont St Giles) Parish Council have received from HS2, a letter titled 'notification of service of temporary possession notices over the land at the village pond and Riverside Walk'.
What this means is that HS2 do not require the land for any works associated with construction of the tunnel however they will need to take temporary possession of the land should the tunnelling works have a detrimental effect on the flow of the River Misbourne to the extent that corrective works are then required." (ENDS report)
But if the tunneling is safe, how can it have any detrimental effect ?
05-May-2021
Buckinghamshire Council and the Chilterns Conservation Board have serious concerns about the impacts of HS2's tunnelling operations on Buckinghamshire's aquifer and chalk streams. (BFP)
30-Apr-2021
The Environment Agency responded to our FoI request, and released the documents submitted by HS2 to support the application
28-Apr-2021
The Chiltern Society and its partners, the River Chess Association and Buckinghamshire Berkshire and Oxfordshire Wildlife Trust (BBOWT) are today warning that the fragile chalk aquifer beneath the Misbourne Valley – which provides drinking water to thousands of people in the region – is under threat from HS2 Ltd.'s planned tunnelling operations.
River Chess Association
A message to the EA -
You are still someway off providing adequate responses to how The Environment Agency intend to monitor this activity to ensure the safety of the chalk aquifer resource that supplies our local rivers like the Misbourne and Chess and domestic water supply.
01-Apr-2021
Named Tunnel Boring Machines ✔
Dug a really big hole ✔
Started manufacturing tunnel liner ✔
Sourced water for TBMs ??
Obtained permission from the EA X
Something slipped your mind ?
HS2 have only just applied to the Environment Agency for approval of the Chiltern Tunnel Scheme - (and no, its not an April Fool ) - see response to this question (from Lord Berkley)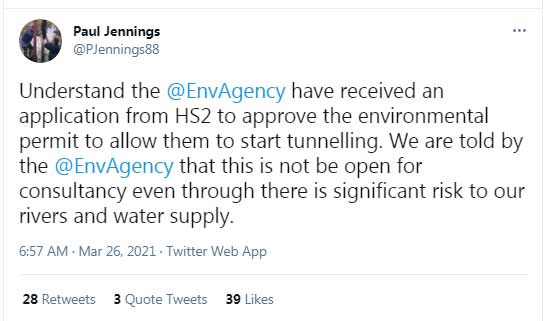 Fresh from rolling over Natural England at Jones Hill Wood, it seems unlikely that they anticipate any trouble from the Environment Agency (and those who have worked with the Agency over the years might well agree - who put the crap in Chalk Streams ?). However, apart from the risk to the Misbourne (only another bloody river), there is also a significant risk to the Chiltern Aquifer, which supplies much of the drinking water to North London. Queueing for bottled water might not go entirely unnoticed ?
Haydon Bailey, Geologist by appointment to the Chiltern Society, has written this report on the risks. Get your chequebooks ready, its crowdfunder time soon ...
Meanwhile, a few FoI requests have been made.