01-Apr-2021
The Chiltern Tunnel - Approval ?
Named Tunnel Boring Machines ✔
Dug a really big hole ✔
Started manufacturing tunnel liner ✔
Sourced water for TBMs ??
Obtained permission from the EA X
Something slipped your mind ?
HS2 have only just applied to the Environment Agency for approval of the Chiltern Tunnel Scheme - (and no, its not an April Fool ) - see response to this question (from Lord Berkley)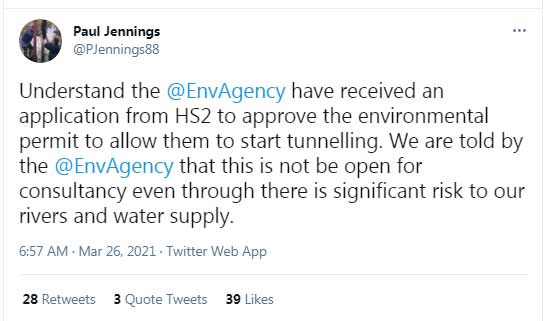 Fresh from rolling over Natural England at Jones Hill Wood, it seems unlikely that they anticipate any trouble from the Environment Agency (and those who have worked with the Agency over the years might well agree - who put the crap in Chalk Streams ?). However, apart from the risk to the Misbourne (only another bloody river), there is also a significant risk to the Chiltern Aquifer, which supplies much of the drinking water to North London. Queueing for bottled water might not go entirely unnoticed ?
Haydon Bailey, Geologist by appointment to the Chiltern Society, has written this report on the risks. Get your chequebooks ready, its crowdfunder time soon ...
Meanwhile, a few FoI requests have been made.