22-Nov-2016
Petitions to the
Hybrid Bill Committee
(See this page for SES3/AP4 petitions, this page for House of Lords )
The Environmental Statement published in November 2013 set out how HS2 Ltd proposed to build phase 1 of the railway. Comments on these proposals were invited, and a selection of those relating to the AONB can be found on our ES responses page. These highlight the widespread disruption and destruction which is planned for the area, and the many inaccuracies and omissions contained in the statement itself.
The responses were 'summarised' ( actually just listed) and presented to the House of Commons for the second reading of the Hybrid Bill (which would authorise the construction of the line). The Hybrid Bill committee (of MPs) will soon sit to hear petitions - detailed objections to specific aspects of the route. The committee has the power to order changes to be made to the route, if the objections are considered to be valid.
1925 petitions have been submitted - twice as many as for HS1 - which could take a couple of years to get through.
Thanks to everyone who petitioned
See this page for documents related to the Hybrid Bill Committee proceedings
Select Committee Appearances
Route Wide (1st - 4th Feb 2016)
Members of Parliament (26th, 28th Jan 2016)
CFA8-10
AP4 & 5 (18 Jan- 2nd Feb 2016)
Bucks-Conservation Board etc - Landscape Mitigation; 13-Oct-2015 (added 11/11/2020)
Index to sessions, 7-24 September 2015 (in progress)
Index to Chilterns Tunnel sessions (13-21 July 2015)
Material which might be useful when presenting a petition is being collected here - all donations gratefully received.
To inform us of the latest thinking (or lack of) at HS2 Ltd . Doesnt seem to be much that wasnt in the Environmental Statement, at present.
Bucks Summit
Documents from the Bucks CC Summit - 8th October 2014 are here
AONB petitions
See this map for the proposed construction work in the Chilterns AONB. In most cases the proposed mitigation is totally inadequate.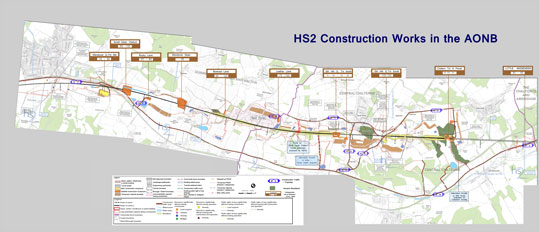 Submitted petitions
Local
Full List of petitions here
Sample petitions