HS2 - Local & National News
Compiled with the aid of Andrea Polden's daily HS2 News digest
For National HS2 news, visit the Stop HS2 News pages,
the Google HS2 news feed,
& the Stop HS2 "TV station" on YouTube
30-Dec-2020
Grims Ditch - FOI request refused
A request for Ecological Surveys and any other reports related to the protection and conservation of wildlife, undertaken in the area of Grims Ditch, for the 3 months preceding 18th November this year, was refused -
"because disclosure would allow the identification of protected species, which would increase the likelihood of harm to the environment or the protected species if their location were known."
Since HS2 contractors completely destroyed the Grims Ditch environment, it is now beyond further harm, and any surviving protected species survive elsewhere. Time to activate the complaints procedure ...
23-Dec-2020
HS2 to apply for bat licenses ?
"We have now received confirmation from HS2 Ltd that they will be applying for the required licences for all ancient woods, including those where concerns have been raised by the Woodland Trust. HS2 Ltd have also confirmed that no woodland clearance will take place at these woods until the required ecological surveys have been undertaken."
Enforcement is still down to Natural England - but a step in the right direction
20-Dec-2020
HGV traffic redistribution
Hidden away in the September minutes of the AONB review group, we find (9.1, p4)
"EKFB confirmed the Princes Risborough A4010 route is not being developed as a main works lorry route; it was noted that this project would be some way from the line of route."
This represents a significant change from the traffic flows presented at the House of Lords Committee hearings, when traffic from the Wendover area (including the cut & cover tunnel) was divided between the A4010 & A413. Routing all HGVs down the A413 would be a 50% increase in traffic ( 156 to 229/day ) on the A413, using the HoL figures. The latest estimates, in the Local Traffic MisManagement Plan, are to be revealed - watch this space ...
18-Dec-2020
Transport Questions (from Lord Berkeley)
14-Dec-2020
Traffic Information Guides !
Way back at the select committee hearings, there was talk of a Local Traffic Management Plan, which would clarify how all the HGVs could be squeezed onto the A413, without traffic grinding to a halt. Instead, we now have a two page brochure listing the peak traffic - HGVs and other - from several sites, & 'peak' duration in months, + a red dotted line indicating that they will access the M40 via the A413 & A355 ( who would have guessed ? ). The resulting traffic around the Amersham bypass has not been calculated - it would be less than the sum for all the sites, as they wont all be at maximum capacity at the same time (we hope), except for the fact that the vent shaft traffic (Chesham Road, Little Missenden & Amersham) isn't included. Those are Align sites, the others are EKFG consortium - but the traffic all goes around the same roundabouts.
So the two main works construction consortia can't even cooperate to produce a useful traffic summary - let alone manage the traffic load.
There is a 'proposed' bus service (for workers) from Smalldean to 'all other working areas south of Aylesbury' - is there anything similar from Amersham - who knows ?
A more interesting question is whether the traffic predictions for the A413 have been updated for life after Covid. The Environmental Statement predicted traffic levels close to capacity, on the two lane sections; will this decrease, as less people will commute every day - or increase, as people avoid the Chiltern Railways peak time Covid express ? For answers to these and other interesting questions - look elsewhere.
10-Dec-2020
Chiltern Tunnel TBMs arrive
The Tunnel Boring Machines for the Chiltern Tunnel have arrived (hooray !) ... but the safety case for this, the longest two bore high speed rail tunnel ever constructed, remains a secret. Numerous Freedom of Information requests for details of how a disabled train would be evacuated in the tunnel have been refused, as this is 'material in course of completion'.
This may be because the procedure involves waiting on a ledge less than 2m wide (a 'place of relative safety') in the opposite tunnel, until a passing train stops to collect you - along with the other 1000+ (allegedly) passengers. What could possibly go wrong ?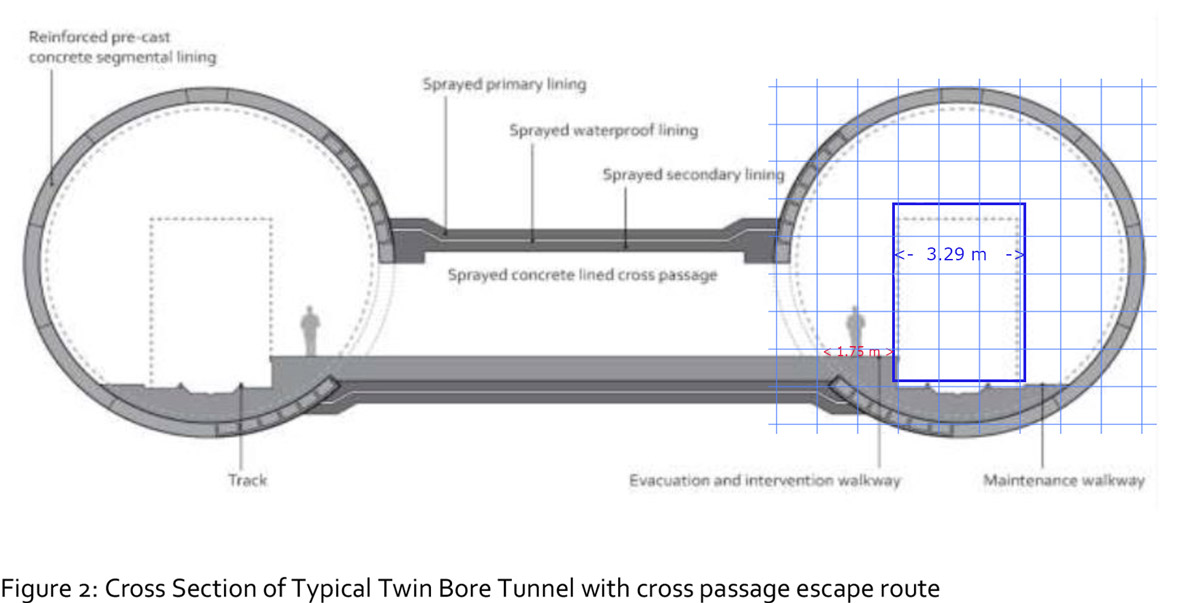 Longest Tunnel ?
It has been suggested on SM that other tunnels are longer -
The HS1 tunnel out of London

Only if you ignore the station at Stratford

Gothard Base tunnel

Has two emergency refuge stations (Sedrun, Faido) + an access tunnel (Amsteg)
Neither tunnel emerges on top of a hill ...
Stop blocking FOI requests
Shut down the Cabinet Office FoI Clearing House and stop blocking requests from journalists. It's an attack on press freedom - 38 Degrees petition - please sign !
08-Dec-2020
Design changes (for the worse ...)
Lords, Lords ...
Call for reports on Woodland destruction
"insert the following new Clause—"Impact on ancient woodland(1) The Secretary of State must lay before Parliament a report every six months throughout the period in which the scheduled works take place, detailing the impact on ancient woodlands." (Baroness Jones, HoL Debate)
... and on safety
"The Secretary of State must publish quarterly reports on the security provision and public safety in relation to the scheduled works throughout the period in which those works take place." (HoL Debate)
An assessor for NDA's ?
"The nominated undertaker, or any subcontractors thereof, must not enter into any non-disclosure agreement with any party in connection with the scheduled works unless the assessor of non-disclosure agreements related to the scheduled works ("the assessor") has certified that it is in the public interest" (Lord Berkley, HoL Debate)
03-Dec-2020
A413 cycle path ?
Dennis Keeling, who lives in Great Missenden, launched the petition on November 24, saying he was worried about the "increased heavy traffic" on the A413 "from spoil lorries servicing the HS2 sites alongside this narrow trunk road". (BFP)
(We understand that the project is encountering problems gaining permission from landowners along the route)
In Parliament
May we have a debate on the duty of care that High Speed 2 has, or should have, to communities it will travel through? ... Having backed HS2, do the Government not have an obligation to see that it goes ahead without wantonly destroying local communities and community assets? (Andrew Slaughter)
To ask the Secretary of State for Transport, on what authority the 300 year old oak tree was felled at HS2 Plan 11; and if he will make a statement. (Dame Cheryl)
30-Nov-2020
Goodbye, Grims Ditch
Grim's Ditch is a linear earthworks, ancient woodland and scheduled monument dating back to at least the Iron Age. Mystery surrounds who built it and exactly what its purpose was. In November 2020, HS2 Ltd destroyed this section in the Chiltern Hills forever. Jones Hill Wood is the next ancient woodland in their path. (YouTube)
New Environmental Sustainability group
HS2 currently aims for no net loss in biodiversity as a result of the line's construction but Stephenson said that after the HS2 phase 2a bill receives Royal Assent – expected before the end of the year – the project will look for ways "to move towards net gains in biodiversity".
"This [aim] will be supported by a £2m biodiversity fund," he added. (Construction News)
(£2m is rather less than what they spend every couple of days)
26-Nov-2020
HS2 respond to the Construction Commisioner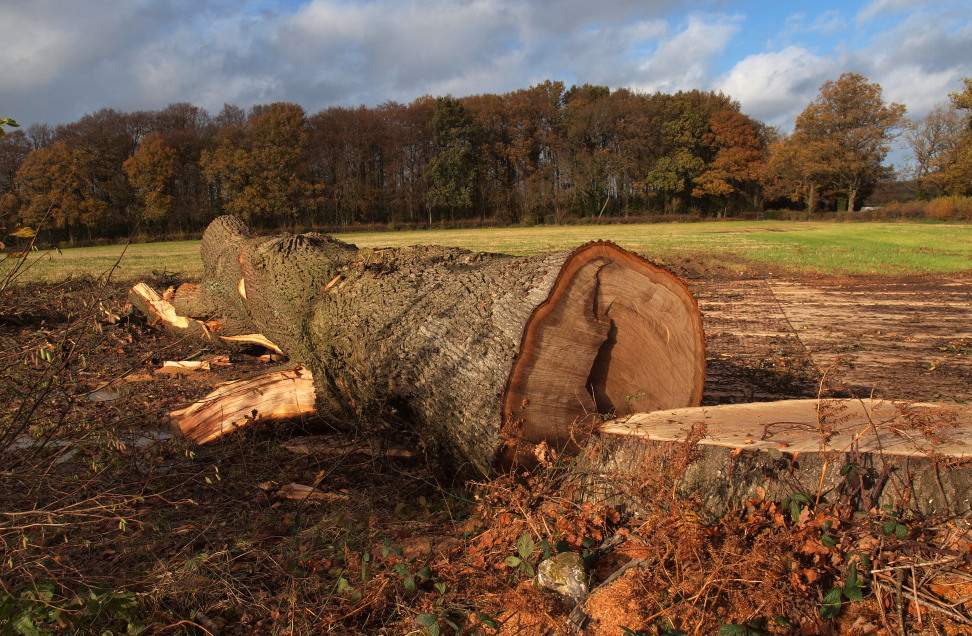 "We have committed to removing the minimum amount of vegetation to build the railway and we have rigorous processes in place to ensure this happens."
For further lies along these lines - read the document.
Bats - More Assurances
 I have also challenged HS2 Ltd about potential harm to bats at Jones Hill Woods, and been assured that no tree clearances will take place before an ecological survey is carried out. (Rob Butler, Wendover News)
Protest Camps
"At an HS2 protection camp, you're always aware [an eviction is] imminent. You never quite know when it will happen, but you do know it'll happen at first light." (Vice World News)
24-Nov-2020
Hell in Camden
Cllr Nash Ali (Lab, Regent's Park) told the full council meeting his ward "looks like a bomb site", while planning chief Cllr Danny Beales said it looked like HS2 Ltd would fail to meet "the bare minimum of assurances we were given" about the disruption caused by noise and construction dust and debris
A motion calling on HS2 and the Department for Transport to "intervene" to protect residents from the impact of construction was passed unanimously. (Ham & High)
23-Nov-2020
and Hell at Bottom House Farm Lane
Phil and Janey Wall have witnessed the land outside their family property on Bottom House Farm Lane in Chalfont St Giles transformed as HS2 installed a "temporary" haul road for the ventilation shaft.
Where once there were views of grazing horses and the River Misbourne beyond, now sits a "vast ugly embankment" and filthy construction vehicles. (BFP)
No HS2 workers getting to Chalfont St Giles vent shaft compound this morning. Access blocked by the farmer in protest at HS2's failure to compensate him for loss of income (Twitter, Facebook, Farmers Weekly)
Once quiet Bottom house farm lane in Bucks. Now an HS2 construction site. Locals frustrated at speed of compensation & disruption. More on BBC London News, 1830 BBC1 (25-Nov) (Twitter)
(Havent noticed Bucks passing any motions recently ... )
20-Nov-2020
We would like to hear from people affected by ongoing HS2 works. ...